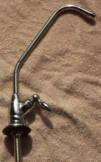 Long-reach chrome faucet with turn knob. ($29 value)
Considerations before buying water filter:
1) The filter measures 19" height, 8" diameter. If it doesn't fit under your sink, you will need to locate it elsewhere, depending on your home's layout. In this event, you can get extra fittings and tubing to place the filter in your garage or basement, or even the cabinet next to your sink. We may need to discuss your needs to get you the right supplies.
2) The drinking water filter uses it's own dedicated faucet. Normally a pre-existing hole is used. If no hole exists, a whole can easily be drilled. You may need a special drill bit for ceramic sinks. Or, a hole can also be drilled into the countertop, right next to the sink, as in picture. Click here to see install instructions.
3) 3/8" Line is standard. However, if you have 1/4" line, let us know at time of order, so we can send you the correct regulator and/or splitters.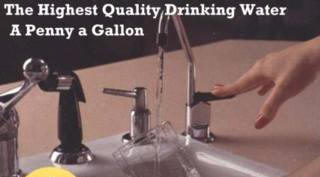 Water Alarm with Remote Sensor -
Warns of leaks and overflows in kitchen, bathroom, laundry, furnace, or anywhere there is a potential for leaks. ($29 value)